Viscoelastic Contour Memory Foam Pillow is characterised by its slow recovery or low resilience after compression. When a weighted object (for instance, the human body) is positioned on the Viscoelastic contour memory foam pillow, the foam progressively conforms to the shape of the object, and after the weight is removed, the foam slowly reassumes its initial shape. It has the ability to conform and go back to shape in 60 seconds after use. It prevents one's head from sinking in too deeply like it would in a regular pillow. It's made to distribute weight evenly, avoiding unnecessary strain on the neck and spine.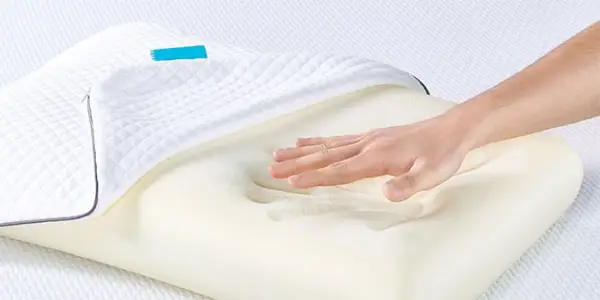 This revolutionary pillow consisting of high-density viscoelastic memory foam is a great invention and it has been widely used in many places where comfort is crucial: homes, hotels, hospitals, etc. It is also one of the sort-after pillows out there. The pillow shapes itself to one's head and neck, providing proper neck support and alignment for optimal comfort and better sleep. More so, it provides excellent pressure point relief helping with headaches, neck pain, back pain, while maintaining softness.
At Vitavisco, we produce high quality and affordable viscoelastic contour memory foam pillows to help you get the optimal comfort and sleep that you truly deserve.
Here are some of the incomparable benefits of viscoelastic contour memory foam pillow:
1. It is hygienic.
2. Comfortable and contours to the shape of your head and neck.
3. Allows even distribution of weight.
4. Reduces pressure points on neck and shoulder.
5. Highly breathable.
6. Dust, mite & mould resistant.
7. Helps with a better night's sleep.
8. Hypoallergenic.
9. Anti-Static.
10. Non-toxic.