Polyurethane (PU) Foam Products
Polyurethane Foam (PU) is a polymer fabricated from the reaction of polyol and diisocyanate. It is characterised by a cellular structure that allows for some degree of compression and resilience that provides a cushioning effect. Polyurethane foam is the most suitable material in furniture, bedding, automotive seating, and a lot more.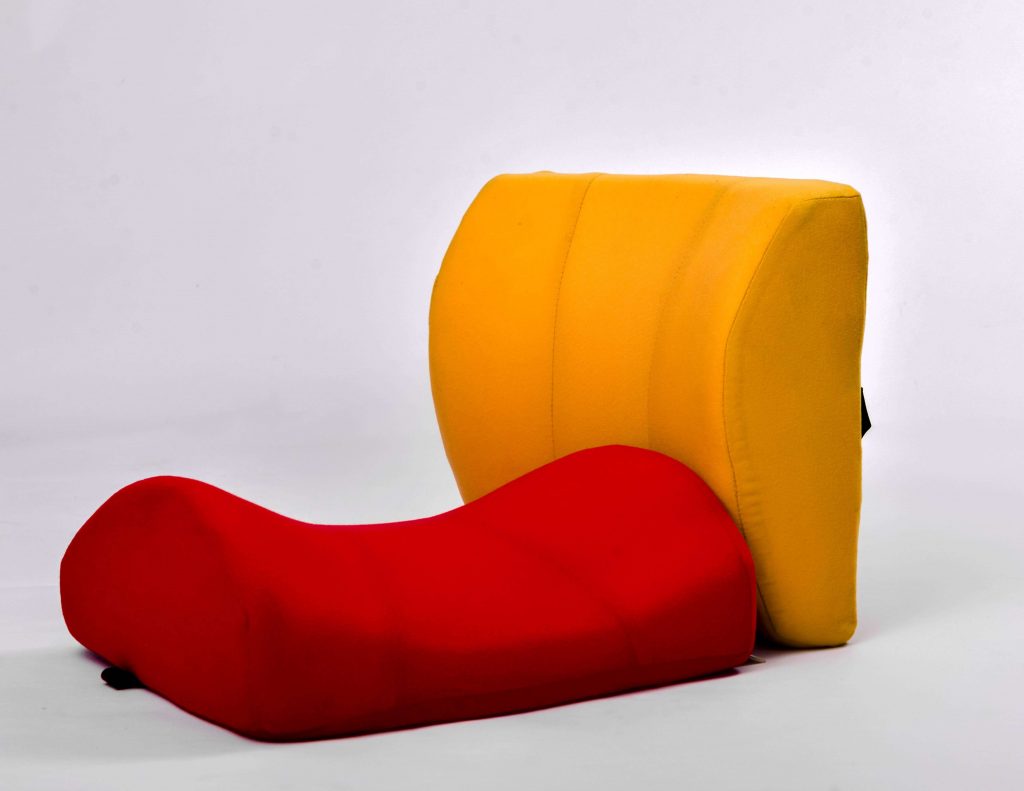 At Vitavisco, the following items are manufactured using polyurethane foam:
Viscoelastic Contour Memory Pillow
Moulded Foam Seat
Our Viscoelastic Moulded Foam Seat provides beneficial support for sitting. It can be moulded, formed or cut to virtually any shape, depending on what a customer wants. Interestingly, It can be made to give extremely flexible or exceptionally firm padding, depending on one's preference.
The flexibility of the moulded foam seat permits the foam to offer support and dissipate pressure effectively while conforming to body contours. It is used for automobiles such as cars, tricycles or buses and modern furniture seats.
Neck Pillow
Made from Polyurethane foam, Neck Pillow is a vital item that individuals must have because of its many benefits. It supports the neck, keeps the spine aligned, relieves pressure points, provides stability against motion, and retains the contour of your neck and head.
Neck Pillow is one of the most important items a traveller needs to carry along when travelling, especially for frequent travellers.
Back Seat Support
One of the products made from polyurethane foam is Back Seat Support. It has been exclusively designed to ease the pressure that builds up at the waist region. This pressure causes discomfort; hence, Back Seat Support is specially structured to fit into the back from the waist level when sitting for a long period of time.
Back Seat Support is ideal and necessary for people who spend long hours sitting down or driving, as it supports them to achieve healthy posture and maintain the natural curve of the spine.
Viscoelastic Contour Memory Pillow
Viscoelastic Contour Memory Pillow is characterised by its slow recovery or low resilience after compression. When a weighted object (for instance, the human body) is positioned on the Viscoelastic Contour Memory Pillow, the foam progressively conforms to the shape of the object, and after the weight is removed, the foam slowly reassumes its initial shape.
This contour memory pillow has the ability to conform and go back to shape in 60 seconds after use. It prevents your head from sinking in too deeply like it would in a regular pillow. It's made to distribute weight evenly, avoiding unnecessary strain on the neck and spine.
Latex Pillow
Latex Pillow is made with the highest quality of latex sap. It offers a resilient supportive bouncy cradling effect that makes it ideal for anyone. It is antifungal, mildew resistant, and unlikely to cause an allergic reaction.
Shoe/Footwear Soles
Polyurethane Shoe Soles
As expected, great footwears should be super-comfortable, durable and affordable. This was the inspiration behind our polyurethane shoe soles. They can be used in varieties of footwears such as pam slippers, formal shoes, sport shoes, safety shoes, sandals, sneakers, etc.
Polyurethane sole is unique and it's the best out there because it's lightweight and chemical/water resistant.
Interestingly, polyurethanes are also extensively used for business and fashion shoe soles, as well as high-quality safety shoes.